Which Weighted Blanket is Best to Buy In 2021?
For transparency, I wanted to let you know that this page contains affiliate links. What is an affiliate link? In a nutshell, as an Amazon and Shareasale affiliate if you make a purchase after clicking a link on this site, I may receive a small commission, at absolutely no extra cost to you! Why do I have affiliate links on my site? Running a site like this and producing quality free content can be surprisingly time and resource intensive. Earning some affiliate income allows me to offset and justify the time and cost involved in producing content, paying for hosting, maintaining the site etc.
If you are considering a weighted product for yourself, a friend, family member or child: Please make sure you are well educated on the right weight to use, and whether use of a weighted product would be safe in your specific situation. If you are at all uncertain, please consult a qualified medical practitioner. Material provided on this site is for general informational purposes only and should not be considered a substitute for qualified medical advice (more info about that here).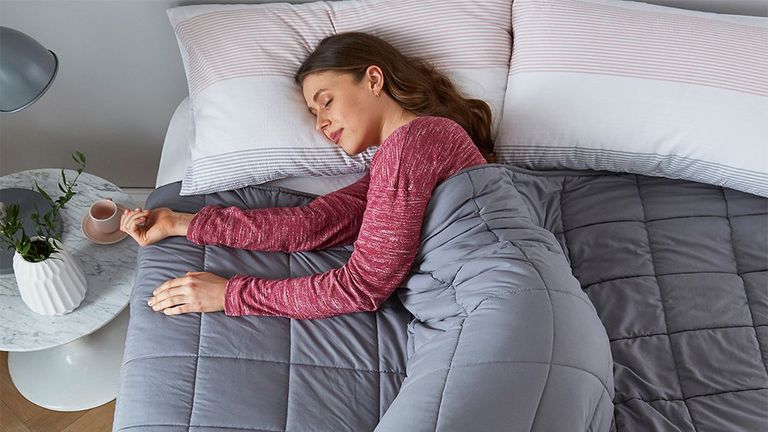 Weighted blankets were originally prescribed by occupational therapists to help children and adults on the autism spectrum to manage sensory related symptoms. Over the years they have since gained popularity for the amazing benefits they offer. They differ from heavy blankets in design in that they are comprised of several pockets that are filled with little weighted objects such as beads or pellets. These pockets are then sewn shut and stitched together like a patchwork quilt and this helps distribute the little weights all over the body.
The calming effects of weighted blankets on the nervous system is what helps manage anxiety and sensory related issues caused by the Autism Spectrum Disorder.
Weighted blankets also help improve the production of serotonin and melatonin hence encouraging the body to fall asleep a lot more quickly.
Weighted blankets offer a great deal benefits and just like any purchase, it is important to do your research before settling on one. There are different elements to consider when selecting the best weighted blanket and we created a handy guide that outlines them and also curated a list 5 of the best weighted blankets.
The 5 Best

Weighted Blankets
1.

Quility Weighted Blanket
The Quility Weighted Blanket tops our list as the best weighted blanket. It is an ideal choice for anyone looking for an extremely cozy option. The blanket comes in six colors with each of them having the same materials. The shell of the blanket is made of cotton and reinforced with polyester backing and the fill is made up of glass microbeads with polyester padding. The glass microbeads conform closer to the body than plastic beads and the polyester padding adds to its substantial feel.
The weighted blanket comes with a minky polyester duvet removable cover with a smooth and fuzzy side. The Quility Weighted Blanket is known for its innovative seven layer construction and its broad range weight options. The downside with the construction is that it does tend to trap too much heat which can be too much for those who sleep hot. It does however provide a notable hugging sensation. It comes in single, twin, full and queen/king sizes ranging in weight from 5 pounds to suit sleepers of different sizes. When it comes to washing, the inner blanket can be hand washed or dry cleaned and it should be left to hang dry. The duvet cover can be hand washed or machine washed but on a gentle cycle . It should be left to hang dry.
The YnM weighted blanket has seven breathable layers, comes in five different sizes , offers nine weight options from 5 to 25 pounds and is sturdy. It is the ideal weighted blanket for those on a budget and can help if you're dealing with anxiety, ADHD or restless leg syndrome. It is filled with glass beads and is a great blanket for adults.
It doesn't come with a washable cover but YnM sells many different machine wash friendly duvet covers that make it easy to keep the blanket clean. The outer cover options are available in variety of fabrics including minky cover and cotton cover. You can also have additional fiberfill.
3.

Gravity Weighted Blanket
The Gravity Weighted Blanket can easily be said to offer everything you need in a good weighted blanket. It is one of the best weighted blankets in the market. The inner shell of the blanket is made of 100 percent cotton and is filled with non-toxic, fine grade beads. Its grid-stitching ensures that there's uniform weight distribution and that the glass beads stay in place. The inner blanket has corner ties and elastic buttons that secure it to the duvet cover and prevent uncomfortable bunching. The duvet cover is made from polyester microfiber and has a plush and fleecy feel. The cover is removable and can be washed and dried at home. The Gravity blanket offers three cover colors: white, grey or navy. The inner blanket should only be hand washed and air dried.
The Gravity blanket only offers three weight options: 15, 20 and 25 pounds. Children who weigh at least 150 pounds may feel comfortable but given its weight range its seems better suited for adults. All Gravity blanket sizes share the same measurements of 48 inches wide and 72 inches long with the exception of their Queen/King Blanket which is 35 pounds and is 90 by 90 inches and great for couples.
The Casper weighted blanket is a well-constructed blanket that is made with high quality fill and a durable shell. It has a breathable outer cotton cover that allows plenty of air to flow through the blanket. The cover has a durable twill weave and its thread count is 205. The inner polyester liner keeps the fill in place and is constructed with a twill weave and has a thread count of 140. The fill has fine glass microbeads which add warmth and a polyester batting that creates a fluffy feel allowing you to experience a cozy like feeling with the blanket.
The Weighted Blanket is available in three weights to suit a range of body types and preferences . The throw blanket size is ideal for individual use.
The weighted blanket provides a body-hugging feel that lets the sleeper experience some of the benefits of deep pressure stimulation which can help reduce anxiety. The Casper Weighted Blanket is spot clean only and should be air dried.
4.

Casper Weighted Blanket
5.

ZonLi Weighted Blanket
The ZonLi weighted blanket is constructed with several individual layers with the middle layer having glass beads that provide the weight. The blanket also has a cotton shell with additional layers of cotton backing. There are also layers of microfiber and solid polyester for extra padding. It features small squares that help distribute the glass beads more evenly.
The outer material is made of ultra smooth natural bamboo viscose hence you won't overheat. It offers a wide range of weight from 5 to 12 pounds for children and 15 to 30 pounds for adults. The blanket is fairly durable due to its layered shell and padded interior.
Duvet covers made of cotton, polyester minky, and rayon from bamboo are sold separately.
What To Look For

When Buying The Best Weighted Blanket
a) Weight
A weighted blanket is all about heaviness. The whole concept is that they exert just enough pressure to soothe the central nervous system hence helping you relax and this leads to a deeper and more restful sleep.
A general rule of thumb is to find a weighted blanket that is 10 percent of your weight. For example, if you are 150 pounds, a 15 pound blanket would be ideal. The key is to find the right balance. If it's too light you might not get the benefits you are looking for and if it's too heavy, you might feel too constricted.
Weighted blankets start off from as little as 5 pounds. These are ideal for children who weigh 50 pounds and more. It is not advisable to purchase a weighted blanket for a child without consulting a doctor though. For adults, weighted blankets tend to range between 10 – 25 pounds.
If you find that you are between the standard sizes that weighted blankets come in then it is recommend adding one or two pounds.
A weighted blanket should not be so heavy that it is unmanageable but it should be enough to apply the required amount of pressure to the body's deep touch pressure points.
How to choose a weighted blanket for couples
It is common to share a weighted blanket between couples. However, it is only fine when both persons feel comfortable with the weight and size of the blanket. It is not recommended to share weighted blankets with those who differ dramatically in size. Ideally, what a couple can do is if they are similar in size is choose the ideal weighted blanket by calculating their average weight and buy the blanket according to the 10 percent rule.
b) Size
Most weighted blankets are made for a single user at a time and tend to be the size of a throw blanket. There are some blankets that are large enough for couples but you do have to double check the dimensions to ensure that there's actually enough room for the both of you underneath. When it comes to height, it's important to check the dimensions to ensure that they are long enough.
When buying a weighted blanket, you should consider the size of your bed. You can buy a blanket that is the same size or slightly larger than you.
Just like the 10 percent rule applies to weight, the Chin to feet rule applies to dimensions. A weighted blanket should be long enough to reach a person's chin and feet. It depends on the person but there are those who prefer to have their upper bodies covered while others prefer to have their lower bodies covered. Each of which have their benefits. For example covering the upper body can stimulate pressure points that calm the nerves and help improve the symptoms of insomnia and anxiety.
Also, when considering the size of a weighted blanket, mobility should come into mind. If you travel a lot then a smaller sized weighted blanket would be ideal especially if you experience anxiety while flying.
When buying weighted blankets for kids, it's always important to remember that they will grow hence you should always plan for growing room. However, this does not mean that they can use an adult's weighted blanket. Something else to note is that your weighted blanket should not hang over the sides of your bed as this can cause the blanket to slide off the bed and on to the floor during the night.
c) Filler Type
Weighted blankets use either plastic poly pellets or glass beads. Glass beads tend to be the same size as grains of sand or salt crystals and are heavier than plastic pellets. They take up less space in the blanket since they are smaller hence making the blanket look thinner than those made with plastic pellets. They are more durable and preferred by people who enjoy bulk-free bedding.
Poly pellets are tiny, round pellets that are made from plastic materials that have not been exposed to other chemicals and toxins. Some blanket companies opt to use them because they are cheaper. They make the blanket bulkier and can seem a bit noisy. They are more affordable but are much harder to find as most manufacturers have switched to glass beads. They work well for people who prefer a cozy, duvet-like blanket.
There are also weighted blanketed that include polyester fiberfill. This gives you a more normal blanket like feeling by adding warmth but they are less breathable. If you want a more breathable blanket, you can opt for one without fill.
Sand is another type of filler used in weighted blankets. It is also affordable but the downside is that it does not wash well. When it comes into contact with water, it swells and becomes lumpy and this can affect the look and feel of the weighted blanket.
Rice is popular as an inexpensive filler option in the DIY community however just like sand and many other organic materials, it does not wash well. For more durable and high quality fillers glass beads or poly pellets are better choices.
d) Cover
Weighted blankets with fillers usually have a detachable duvet like cover. The covers serve several purposes such as temperature control, option to swap duvet colors and materials without having to purchase a whole new blanket and easier washing (the actual weighted blanket is not washed as much as the exterior cover).
The classic weighted blanket cover is made of soft microfiber. However, weighted blankets can be made from a variety of fabrics such as flannel, fleece, satin, velvet, polyester and cotton. Choosing a fabric depends on your preference. If you enjoy bundling up in warm pajamas or heavy blankets, a fabric that holds heat like flannel or fleece may be a good choice.
If you break out in night sweats or are experiencing hormonal changes, a lightweight fabric like cotton might be ideal.
You can also consider having two blankets one that is cooler and breathable for summer and another that is warm and flannel like for the cold winter months.
If you suffer from sensory related issues, cotton or satin fabric tends to be the preferred option.
e) Is it Machine Washable
Before washing a weighted blanket, ensure that you read the care instructions carefully. Some state that they should only be washed in cold water while others recommend avoiding detergents with bleach or harsh chemicals. You also need to check on whether the weighted blanket is actually dryer safe as only a few are. Some weighted blankets are not machine washable which means that you'd need to stick to spot cleaning. This can be done with a diluted mixture of gentle detergent or dish soap. For a deeper cleaning, you can take them to a dry cleaner
What should you know

before buying a weighted blanket?
You might be overloaded with information after all that, so I'll help get it easier. The first thing: for who do you need your blanket for? What's your budget? Will it serve a specific function, like aiding to treat a health condition?
You must ask yourself all of these questions because each blanket manufacturer has strengths and weaknesses, some have a higher price, but your kid might like their design a lot. Or maybe one manufacturer has exactly the kind of blanket you want at a great price, but the height is too short for you.
My suggestion would be to read the details on all of the blankets, and pick 2 or 3 that have everything you think you need, and go check them on Amazon.
You don't need to read all of the reviews (I did that part of the work for you), and I can assure you that those 7 blankets are the best "bang for your buck" in the weighted blanket market right now.
Hopefully I'll find more manufacturers that fit the criteria (which basically means seeing a lot more people loving rather than disliking the blanket).
Final conclusion about

buying the best weighted blanket for you
Weighted blankets are awesome, really, I can't say this enough. But they're a bit expensive, and that's the reason why my weighted blanket has been in the bed of my mom, my brother, my girlfriend, and even aunts and cousins.
They don't really want to spend the money in one, but they do enjoy whenever I lend it to them (and sometimes even fight each other to have it, lol)
The point is, weighted blankets can be something almost everyone can enjoy having, and you'll most likely feel really good when you wear it
But...
There's one extra something you need to know before buying your comforter, and it is that it doesn't matter how much research and money you put into getting the best weighted blanket ever for you, or your kid: there's always going to be the chance of it not being totally awesome.
There's always the chance of feeling disappointed by what you bought, you might have underestimated the feeling of the weight, and end up being overwhelmed by it.
Or you might just not feel anything change at all, while wearing it, besides an "uncomfortable" weight on top of you.
We are humans, and we react very differently to stimuli, the blanket is great for people with anxiety, but there's always the chance of making someone even more anxious when he wears it.
And they only real true things about weighted blankets are:
They are comforting, and can simulate a big and reaaally long hug.

They're going to stimulate your nervous system via deep touch pressure, and probably make you produce serotonin, thus relaxing you and helping you sleep.

They are HEAVY!! If you do get a weight above 10% of your body weight these things will ping you down, and make you feel like you never want to get out of bed/couch/wherever you are chilling.
Last words, if you really do end up buying a weighted blanket, I do hope you (or your loved one) enjoy it, and that you have a very happy and long lasting relationship with your new blanket (just take good care of it, don't wash it a lot, and please, please, don't put it on the dog).
Thanks for reading!
FAQ
What is the best weighted blanket on the market?
There are many quality weight blankets in our market. Based on our experience and research we believe that the Quility weighted blankets is more than suited for the job. They offer a huge range of quality products that satisfies any of the customers needs. Not only that, you are sure to feast your eyes on a catalogue of different styles, colors and designs when it comes to picking your weighted blanket.
How do I choose a weighted Blanket?
There are a few factors that you should consider before making that purchase. This are:
The Blanket Weight:

What weight suits you best. The best thing when it comes to this is that the weight of the blanket should be 10 percent of your overall body weight

The Type of Weights used

:

that is, either plastic poly pellets or glass beads.

Blanket Cover:

Does the blanket have a removable cover or not?

The Size (Length):

Weighted blankets should cover one's body from the neck down, leaving little space at the end on edges especially if you plan to be sleeping under it. This is because, with the weights it may cause the blanket to move beyond to the edge of the bed due to its weights.
Where is the best place to buy a weighted blanket?
There are a majority of places physical and online that you can purchase your weighted blanket in your convenience. You can purchase from Amazon, but you can also get your blanket from other retailers: Macy's, Overstock, Walmart, Target, Zulily, Bed Bath & Beyond among many more.
Is it Okay to sleep with a weighted blanket every night?
Yes, it is, if you do not face any complications that may hinder you from using weighted blankets, you can use them. The benefits of weighted blankets for adults are many. For example, through majority researches, it is recorded that in using weighted blankets you are able to reduce your anxiety and improve the quality of your sleep immensely.
Who should not use a weighted blanket?
Weighted blankets are safe for healthy adults, older children as well as teenagers. They should not be used by toddlers under 2 years of age, as it may cause suffocation. It is also not advised for older children or even adults who might have developmental disabilities or delays for the same reason.